The Verge is an American tech news website operated by Vox Media, publishing news, feature stories, guidebooks, product reviews, and podcasts.
It was founded in 2011 in partnership with Vox Media, and covers the intersection of technology, science, art, and culture. It's original editorial insight was that technology had migrated from the far fringes of the culture to the absolute center as mobile technology created a new generation of digital consumers.
Now, we live in a dazzling world of screens that has ushered in revolutions in media, transportation, and science. The future is arriving faster than ever.
Contents
Product database and articles
The Verge hosts a product database which allows readers to compare product specifications and research product availability.
The site's team publishes product reviews for consumer items. Personal computers and cellphones are the most reviewed products. Items receive a "Verge Score" out of 10. Users can also submit reviews for products they own.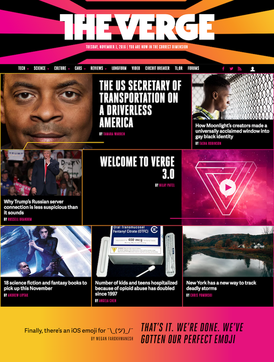 PODCASTS

The Verge broadcasts a live weekly podcast, The Vergecast. The inaugural episode was on November 4, 2011. It included a video stream of the hosts. A second weekly podcast was introduced on November 8, 2011. , The Verge Mobile Show,which was primarily focused on mobile phones.
Video content
On The Verge

On August 6, 2011, The Verge Show, a web series was launched. The show is a tech news entertainment show, and its format is similar to that of a late night talk show, but it is broadcast over the internet, not on television.
On May 24, 2013, it was announced that the show would return under a new weekly format, alongside a new logo and theme tune.
THE VERGE- JOURNEY
Vox Media revamped It's visual design for its fifth anniversary in November 2016.It's logo featured a modified Penrose triangle, an impossible object. On November 1, The Verge launched version 3.0 of its news platform, offering a redesigned website along with a new logo.
In September 2016, It fired deputy editor Chris Ziegler after it learned that he had been working for Apple since July. Helen Havlak was promoted to the editorial director position in mid-2017. In 2017, The Verge launched "Guidebook" to host technology product reviews.
In May 2018, Verge Science launched a YouTube channel, which had more than 638,000 subscribers and 30 million views by January 2019. The channel received more than 5.3 million views in November 2018 alone.